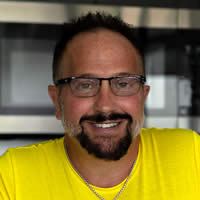 My name is Patrick Dati and I am me. I know that doesn't surprise you. It does me! I wrote a book titled "I AM ME". I tell the story of a boy who was raped when he was nine. Then as a teenager one day after school hanging out at his best friend's house while watching police and reports across the street from his friend's home he discovers the man that raped him years earlier was serial killer John Wayne Gacy. I tell the story of a boy who was bullied by an older brother for more than 20 years. I tell the story of a boy who discovers he's gay. But because he's part of a typical Irish-Italian family living on the north-west side of Chicago, he hides who he is. He lives his life to please his parents, to please his brothers and sisters, to please his friends, to please his two wives, to please everyone but himself. He just lives to be who everyone else want him to be. Then, finally, finally… well, finally he becomes me.
Today, I am a voice, a dedicated advocate, for all victims of abuse—each person who has ever suffered sexual abuse, bullying, or the need to hide who they really are. My life is now dedicated to each of those persons so he or she can become himself or herself and live his or her life—so each of them can say: I AM ME!
Patrick Dati's Bio
Patrick is an advocate and speaker for several organizations devoted to promoting LGBTQ rights and to preventing childhood abuse and bullying. These organizations include Center on Halsted (Chicago's community center dedicated to advancing the health and well-being of the LGBTQ community); Teach Antibullying, Inc.; Dreamcatchers for Abused Children; The National Association of Adult Survivors of Child Abuse; and RAINN (Rape, Abuse and Incest National Network). Patrick graduated from Columbia College in Chicago with a BA in Broadcast Communications. His career spans two decades as a marketing professional in Chicago. Patrick and his partner live in Chicago's Lakeview neighborhood.